Accelerate payment processing rates with automated validation of critical payments details
Designed to help payment service providers, banks, and corporations
LexisNexis® Bankers Almanac® Validate™ facilitates the accurate setup, routing and processing of payments. This payments API can be used anywhere that payments data needs to be checked and improved, including customer-facing products, business applications and core systems.
Using a simple payments API integration, it not only enables validation, it also enhances payment details by automatically adding:
Payment network routing details
Standard Settlement Instructions (SSIs)
Full bank and counterparty bank details
IBAN and BIC numbers generated from domestic account details
Benefits
Bankers Almanac Validate reduces workload for end users and creates a seamless customer experience. It works in the background to instantly verify customer-entered information against payment and compliance rules. If something isn't right, such as an IBAN or ACH number, it can immediately alert customers before they hit "send," preventing delays and failed payment fees.
Sign up for Your Free Trial Now
5 Payments Trends to Watch in 2023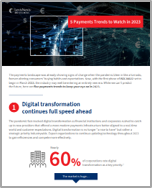 LexisNexis® Bankers Almanac® Validate™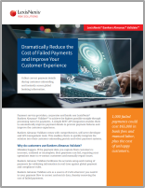 LexisNexis® Bankers Almanac® Validate Case Study